ABBONDANZA
Group  exhibition
May 3 – May 18, 2023Milena Barberis, Stefania Carrozzini, Cristina Cary, Gro Folkan, Grazia Gabbini Josefin Hill, Susi Lamarca, Pino Lia, Marcello Mazzella, Gigi Musa, Maurizio Pini Christopher Pisk, Tiziana Priori, Mala Says, Marcello Sèstito, Vittorio Sironi, Armanda Verdirame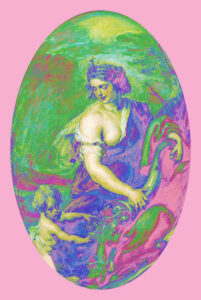 MyMicrogallery is pleased to announce the group show entitled "Abbondanza" curated by Stefania Carrozzini. This exhibition is inspired by the name of the curator's mother, to then go further and welcome the deeper meanings that this ancient name reveals, starting from Greek mythology, the goddess of Abundance, the legend of the cornucopia, up to Lahshmi, female divinity Hindu among the most benevolent, associated with light and purity.
Seventeen artists are confronted with a theme that alludes to the relationship between spirit and matter to tell the visitor the ways of perceiving one's own experience linked to the theme of prosperity. Moving between different practices such as photography, painting, sculpture and digital painting, artirst interpreted the theme by building a bridge between the mythological narration and the present. The corpus of works exhibited in the gallery is an invitation to reflect on the ways in which we perceive the Abundance, material or spiritual, of being or having.
"What is Abundance? Have, possess or simply living in harmony and be joyful by developing harmony in ourselves? Abundance is every material thing and every wonderful feeling; it is our divine inheritance, a spiritual and material inheritance and wealth that lies in the soul and from the soul it flowers and takes shape. Abundance is profusion, quantity, wealth, it is all that the universe has generously given us, without asking for anything in return. It is unconditional love. Abundance is the fertile source of creative inspiration that never runs out, it is something we feel we have regardless of the condition we are in, it is something that no one can take away from us because it is not tangible, it is something we tune into through the intensity of the energy present within us.
As long as our thinking – and, consequently, general, economic and social thinking – remains centered on scarcity, we will achieve nothing but poverty. Instead, abandoning competition with others and realizing the awareness that the creative power in ourselves is unlimited, all the infinite abundance of the universe becomes ours" S.C.