FLORAL  OBSESSION
Opening : April 21
fr0m April 21 to May 3, 2022
Makiko Asada
Debora Ferruzzi Caruso
Susi Lamarca
Felipe Cardena
Anne van Leeuwen
Silva Nironi
Marina Geipel
Stefania Carrozzini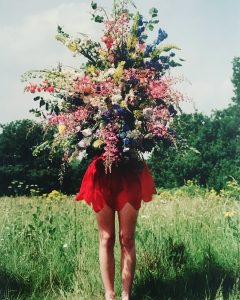 FLORAL OBSESSION
It is almost impossible to imagine a time when the grace, beauty, charm and delicacy of flowers didn't seduce us. We turn to them for all the great miles of our lives.
There is no such clear sign in the world of renewal, rebirth and awakening. Although bright it fades quickly, it is therefore a symbol of ephemeral beauty, of the transience of existence. Flowers are a symbol of strength and lightness, in reality their fierce roots invade the most inhospitable soils that the flowers stand out with their bright flowers on rocky terrain, along superhighway or on asphalt.
The flower is a natural mandala that symbolically represents the wheel and the eternal movement of the cosmos that guides everything. The hermaphroditic nature of flowers is a symbol of the union of opposites in the process of self-realization. And this symbolic force has always fascinated the artists who have always made it the subject of their works. From a simple detail the flower becomes the absolute protagonist thanks to the painter Hans Memling even if its consecration will then take place with Caravaggio.
In this way, the natural theme is placed on the same level as the human one, of the great stories of the Gods or of the Saints. The flower, nature and what is connected to this world is no longer a simple decoration, an elegant means to enrich a work, it now becomes a real theme, noteworthy, worthy of representation and no longer plays a role marginal as in the past.
The advent of photography has played an important role in the representation of flowers in art from the past to the present day, where artists, using advanced techniques and increasingly sophisticated tools, explore the floral world in a total way, giving body to a true obsession: flowers explode, implode through all expressive languages, from video art to installation to sculpture. Their beauty remains, even in the apparent narrative cliché, the fulcrum of the privileged communication between humans and nature.